Fantastic Outdoors: Alabama
No wonder why some Americans refer to the state of Alabama as their sweet home; with its breathtaking landscapes, I'm sure you'll also want to make it your home. Alabama's scenic beauty never fails to soften even the hardest of heart so if you feel like you need some love, hop on to the next jet whilst carrying your ESTA Visa. Outdoors have never been this exciting, Alabama here we come.
Alabama's charm is deeply rooted on its rich history, and the southern hospitality is not something you can find anywhere in the US. There's a reason why people sing, "Sweet home, Alabama." It's simply a fantastic place, something that gives you an inner sense of calm. You can even push your exhilarating outdoor adventures to the extremes, so get your gear and let's enjoy the sun and savor the sweetest air from Alabama's scenic parks.
The Flora-Bama, coined for its proximity to the Florida and Alabama state line is the perfect place to experience party in the coastline. It is also known as America's Last Great Roadhouse, so if you're traveling around by car, make sure that you include this stop on your itinerary. This is a great way to feel the southern hospitality everyone is talking about. There's a fantastic live music with a backdrop of breathtaking Gulf views. Dine and drink to your heart's content and soak up the southern spirit, mind you, it's quite a surprising start for your Alabama outdoor adventure.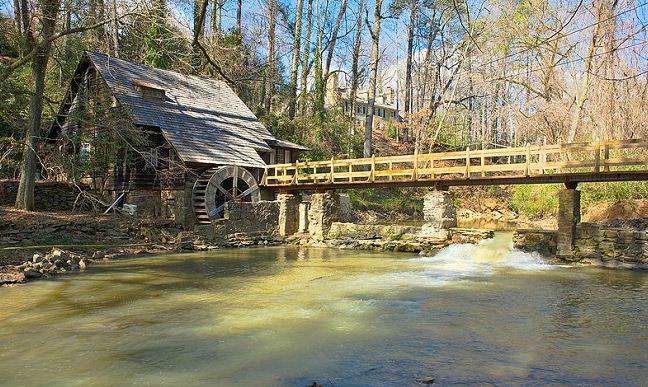 For the toughest outdoor fun, head to the DeSoto State Park in Fort Payne. You must be a nature lover to enjoy this stop, but even if you're not, I'm fairly certain that once you see the splendid and mesmerizing sceneries with lush vegetation and endless horizon of trees, you'll simply be amazed. The hiking trails on the park range from easy to challenging ones so only choose the right one according to your abilities. The forests are thick and if you have no idea about hiking, you better get a hike guide. Once you get to the marvelous waterfalls from either hiking or kayaking through the Little River Canyon, the real fun begins.
Another great activity is whitewater rafting, it's different from kayaking in the sense that it's more difficult and you have to be absolutely fit to even try it. But if you're as tough as nails, then be my guest, wear the gear and blast your way through the dam-controlled river along the Georgia and Alabama border in Phenix City. The fact that it is manmade, think about an engineered riverbed that facilitates a well-designed river flow, makes it a worthwhile experience.
Do you have an inner fascination for horticulture? Well, everyone does unless you don't appreciate colors; I just hope you're not a zombie. The magnificent grounds of the Bellingrath Gardens contain some of the most colorful and lovely flowers in the world. This is in fact, a flower paradise perfect for your romantic needs.
You can culminate your Birmingham outdoor itinerary by visiting the Five Rivers Delta Safari. There's not much walking but it's a lovely boat ride tracking the Mobile-Tensaw River Delta allowing you to see Southern wildlife at its best. Don't forget to look down the riverbanks to see alligators and throw them chickens for fun.
Alabama's outdoors are indeed surefire ways to rejuvenate your dull and boring urban lifestyle. Have fun.